Just got back from a fun filled 10 day trip to Boston. We stayed at the Boston Park Plaza on Arlington Street for 10 days of rest and relaxation. We did a bit of shopping (particularly around black Friday), saw the sights in Boston, including the Cheers pub and I finally got to go to an NBA game, saw the Boston Celtics against the San Antonio Spurs at TD Garden on November 21st. It was surreal to see Rajon Rondo and Tony Parker play and how fast they really are when you're seeing them live. It was also absolutely amazing to see Kevin Garnett, Tim Duncan, Paul Pierce, Manu and all the other stars on these teams and the atmosphere at TD Garden was absolutely unbelievable. I snapped this picture before the game from the seats I got.
While in Boston I also purchased a new acoustic guitar from Guitar Center in Boston. I've been playing for a while now and I've outgrown the Stagg that I bought when I started to learn (it buzzes a bit and the setup isn't great, it's what you would expect from a beginners guitar). I did a lot of research before going stateside and I finally decided on a Yamaha AC3M. The AC-3M is an all solid wood, not laminated. The top is a premium solid Sitka Spruce and the back and sides are solid mahogany. The bridge and fingerboard and neck are also made from Mahogany. It's a beautiful guitar and has a beautiful tone to it which will only improve with age. It's also very easy to play. I spent a long time decided whether I would go for the Rosewood back and sides (the AC3R) or the Mahogany (AC3M) and after playing both in the store I decided on the Mahogany, I like to play a bit of fingerstyle and it just sounded better with the Mahogany. Did I mention it looks fabulous?

The guitar also has an SRT System 63 preamp and pickup system so you can hook it up to an amp, or a computer. I also bought a new guitar interface (better quality) for the computer from IK Multimedia, the Stealth Pedal, which also comes with a Pedal switch which you can use as a midi-control for pretty much any setting on the computer. It also has dual inputs which can be handy when you have more than one instrument you want to hook up. The sound quality of the StealhPedal is far better than from the StealthPlug I had previously, far less noise and much improved quality, I've been using it along with Amplitube (also from IK Multimedia) for both the Acoustic and Electric with great results.
Took the plunge and got myself a used electric guitar. I've been having fun with the acoustic connected to the computer so I wanted to stretch that, and I also wanted a guitar I could practice with without making too much sound, particularly useful if I want to practice when other people in the building might be sleeping. Got a used beginners tool which doesn't appear to have been used much for not a lot of money. It's a Stagg like my first acoustic, S300N, a fairly standard Stratocaster clone, has 3 pickups (neck, middle, bridge) and a 5 way split switch along with the usual Volume/Tone controls. It's not a Stratocaster, but it doesn't sound awful although the pickups do make quite a bit of noise if you have heavy gain. It sounds pretty good when played clean and even with a little crunch and after fiddling with it, changing the strings and lowering the action + adjusting the bridge for better intonation it's not a bad instrument at all, particularly for the price.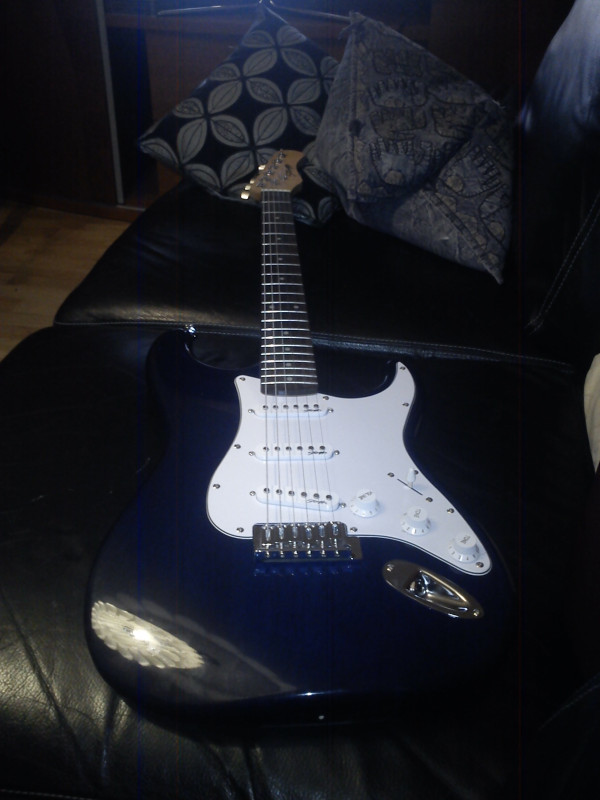 . I also purchased a computer interface so I could hook it up to the computer, called a StealthPlug from IK Multimedia, it's great fun to connect it to the computer and I've been playing along with some computer amp software which is great for practice and playing when you don't want to disturb others.