Michael Steil, the original author of Extract-ADF.c which I hacked and patched a few years back has created a page on GitHub with his sources along with my additions, and even given me credit for the hacks I added to it.
I've removed my version from my GitHub page since it was basically just put there since it was the only way to get the modified version, you can now fetch it from Michael Steil's Github page
Are you going to Cisco Live! in Milan 2015? This blog entry is aimed at the crowd that is going to visit Milan this winter for Cisco Live 2015 Europe in January, although some things would apply to anyone going to Cisco Live no matter where it is being held.
Trains, planes and automobiles
Trains
Milan central station (Milano Centrale) is home to around 600 trains per day according to their website and is the second largest Italian train hub.
Trains arrive daily from many cities in Europe including Bern, Lugano, Geneve, Zurich, Paris, Wien, Barcelona and Munich. In addition to Centrale the Milano Cadorna and Milano Porta Garibaldi stations are big hubs for train traffic and many off the regional trains operated by Trenord arrive there.
You can easily get between Centrale, Garibaldi and Cadorna using the green line of the subway (M2) which stops at all 3 locations.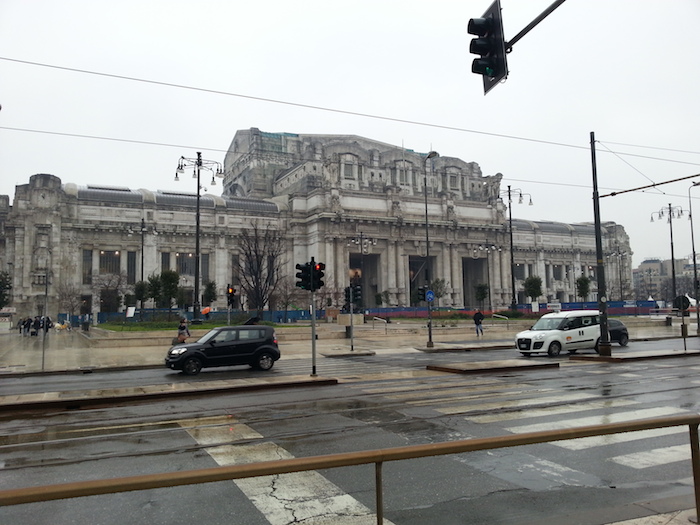 Centrale train station in January 2014
Planes
Milan has three airports.
Malpensa
The biggest one, Malpensa (MXP) is also the biggest in northern Italy and is well connected to the city by the Malpensa Express. You can buy tickets directly from the Malpensa Express homepage. One way tickets are 12€ while return tickets (which have to be used within 30 days) are 18€.
The Malpensa Express is a typical airport train, has place for your luggage and is fairly comfortable, it's probably the quickest and easiest way for you to get from Malpensa to the city and is pretty much the same price as taking a coach. The Malpensa Express departs every 30 minutes to Cadorna (non-stop, takes about 30 minutes) and every hour to Garibaldi (about 40 minutes travel time) and Centrale (about 50 minutes travel time) with 6 stops before arriving at Garibaldi (7 before Centrale, Garibaldi being the pen-ultimate stop).
It is possible to get to Centrale by changing trains twice, take a train to Nord Bovisa and change there to Milano Rogoredo and from Milano Rogoredo to Centrale, this will take you about an hour and 20 minutes. It is also possible to get to Garibaldi by taking the train to Busto Arsizio and changing there to Milano Porta Garibaldi Passante, that will take you about an hour and 10 minutes. In both cases little if any time is saved and you're better off waiting for the next train that goes directly to Garibaldi or Centrale without having to change trains.
You can also take a taxi to the city from Malpensa, that will take about 50 minutes on average obviously depending on traffic. There is a limit of 4 people per taxi. It's a good idea to make sure the Taxi has a sticker that says "Taxi autorizzato per il servizio aeroportuale lombardo", that means that the taxi is authorized for the airport service and that you will pay a fixed fee for the transport. Ask the driver anyway before you depart how much it will be, a fairly common rate is 70-80€ for the journey.
The cheapest option if you're on a very restrained budget is to take a coach (The Malpensa Shuttle is one option), that will set you back 10€ one way, about 16€ for return tickets. You can buy tickets online in advance.
Linate
Linate is a smaller, more regional airport which is located about 8 km from Milan to the east. Some BA flights as well as Air Italia and others operate from Linate.
Linate isn't directly connected by rail but you can take the Urban Line 73 or X73 bus (73 has more stops, X73 is an express bus that only stops 3 times), 73 departs every 10 minutes, X73 every 20 minutes. The last stop for both is San Babila M1 which is on the red line of the subway (Line 1). From there you can take the subway. The cost of the bus is 1.50€.
ATM also operates a coach from Linate to Centrale station which departs every 30 minutes, it is 5€ one-way, 9€ for a return ticket and is a far more comfortable option than the bus (unless you're travelling very light).
A taxi from Linate to Milan is likely to be somewhere in the range of 30-40€ depending on traffic and where you are going within the city. Ask before you get in how much it will be to go where you want to go. I paid around 30€ from Milano Centrale to Linate on a Saturday with little traffic.
Linate airport also has a nice page with options on how to get in and out of the airport
that you can find here
Orio al Serio
The last (perhaps not the least) airport is Orio al Serio, located in Bergamo. Orio al Serio is mainly used by the low cost airlines.
There are a multitude of shuttles that will take you from Orio to Centrale, a list of which can be found on the airports homepage. Orioshuttle departs every 25 minutes and will take you to Centrale for 4€, 8€ round-trip and you can buy your tickets online. The trip will take about 50 minutes depending on traffic and there are no stops. This is probably the easiest way to get in and out.
By train you can take a Trenord train from Garibaldi station or Lambrate station to Bergamo (which will set you back around 5€, 10€ return) and then take the ATB bus from Bergamo station to the airport. Train trip will take you over an hour from Garibaldi, but there is a train that departs at 19 minutes past the whole hour from Lambrate that only takes about 40 minutes. The bus will take you an additional 10 minutes
You could also take a taxi, ask before getting in how much it is to get where you want, I'd estimate somewhere from 75-100€, I'd rather spend that money on a more expensive flight or use the massively cheaper shuttle
Automobiles
Milan is well situated for arriving by car. From East and West it is connected by the A4 highway to Turin and Venice and from the North and South by the A1 highway to Rome and Naples. Furthermore it is serviced by the A7 from Genova and the A8-A9 which connects to Switzerland.
Some parts in the city centre are traffic restricted although you will find multiple car parks. Check that your desired Hotel or Apartment has parking available and how much it is before committing to arriving by car since parking can end up being very expensive.
If you're planning on renting a car in another country to get there make sure you're allowed to drive it over the border and any changes in insurance if you do so. It might still be beneficial for you to make your way around Milano by using the subway rather than the car while you are there (subway isn't competing with traffic), obviously depending on where you intend to stay.
Milano Congressi where the event is held in 2015 (and presumably 2016) has ample parking but check before you arrive whether there is cost involved in parking there and whether the car park is open to attendees.
Metro system
The metro system in Milan like in most larger cities in Europe is fairly solid. It is run by Azienda Transporti Milanesi (ATM) and covers the city using 5 subway lines, 16 tram lines and a multitude of bus lines. If you are staying within Urban Milan and travelling within Urban Milan the Urban ticket is all you need.
Tickets
Which Urban ticket option is best for you depends a little on how much travelling you will be doing and where you will be travelling.
Extra-Urban?
If you need to travel outside the urban Milan area you will need to purchase an extra-urban ticket for that journey, more information about that on the ATM webpage
Urban
If you are staying within Urban Milan and travelling within Urban Milan the Urban ticket is all you need. Then it's just a matter of which ticket you should get. You have some options.
If you anticipate just going from the hotel to the conference and back to the hotel every day, the cheapest pass is the Weekly 2x6 pass which is 10.00€ and allows you two 90 minutes trips every day for up to 6 days a week. You could then buy a single-ticket for any extra trips which is 1.50€ (or a pack of 10 single trips slightly cheaper at 13.80€).
If you are like me and tend to go out again in the evenings to do more networking with other people, shopping or sightseeing, I found the cheapest Urban ticket solution to be one or two day tickets which are valid for as many journeys as you want, for 24 or 48 hours from the time you first use it (run it through the machine at the station).
If you go to the technical seminars (and therefore arrive on Sunday and leave again on Friday) it's probably best to buy 3x2-day tickets (you can buy them all at once using any of the ticket machines in the metro stations, using a credit card, or cash). If you arrive on Monday and leave on Friday you could get 2x2-day tickets and 1x1-day ticket.
The price for the 2-day ticket is 8.25€ and the 1-day ticket is 4.50€ (so 5 days is 21€, 6 days is 24.75€). Note that the 6 days end up being very similarly priced to buying a 2x6 and then 10 single trips which would be 23.80€ but it's just a little more convenient to not have to have a bunch of single-tickets with you.
Take note that if you're travelling with something other than hand luggage on the ATM network, the ATM home page says that you need a luggage ticket (or you can use a metro single ticket if you have one), which costs the same as a standard single ticket or 1.50€. You need to stamp that ticket, as well as your travel ticket before you get on-board and like the usual single ticket it is valid for 90 minutes. Having said that, I've never seen any enforcement of this rule nor seen anyone being asked to show that he has a luggage ticket, but if you want to go strictly by the book you should be aware of it.
Picture of the Duomo, go to the Duomo station on the green and yellow lines
Links
Accommodations
The Cisco Hotels
There are obviously many places where you can stay in Milan, ranging from hostels with shared bathrooms in the hallway to 5 star hotels. The easiest option for you might be to follow the official Cisco list of hotels that Cisco has gathered for you. They have also calculated transit times from these hotels to the venue. There tends to be a reasonable amount of hotels on offer in varying price categories, these are however obviously not the only hotels on offer.
Other hotel options
If you are feeling more adventurous you can use sites such as Trip Advisor which has good (honest) reviews and a list of prices from many hotel sites or browse the hotel sites directly, some examples of which are booking.com, hotels.com and expedia.com to look for Hotels that meet your criteria. Do read the reviews and find out what people liked and disliked. What some people disliked might not matter at all to you and vice versa. My main criteria for Hotels during the stay is:
Quiet during the night, because the hotel does not need to be quiet during the day when you're away at the conference anyway you can safely pick a hotel that is undergoing renovation or repair during your stay, which can sometimes save you some money, do check the reviews and see if guests said it was quiet during the night.
Has good breakfast, there tends to be not a lot to eat at the conference except for lunch so I make it a rule to eat a good breakfast before I depart in the morning, a good breakfast is therefore high on my list of things I need.
Bathroom and shower in the room, staying a whole week somewhere where you're sharing a bathroom or a shower is out of the question for me, if you think you can live with that for a full week there are cheaper options that open up for you, otherwise you're pretty much limited to 3 star hotels.
WiFi that works, many hotels offer WiFi (sometimes even free), it isn't always good however, browse the reviews for the WiFi, check if it's free, check how much it is if it isn't free (you might have to send an email to the hotel or even call them to check), it can sometimes be very expensive, even ludicrously so.
Where in the city should you stay
Where to stay depends a little on your preferences. I've been to Cisco Live! (and Networkers) in 3 different cities over a span of 9 years and I've tried pretty much all of these options. There are pros and cons to each one of them, read them and figure out where you fit.
Stay close to the conference centre:

Pros

Shorter transit in the morning, might even be within walking distance so you don't have to leave as early and might save some money on trains
You can go to the hotel at lunch time or during longer breaks to relax, work, or even use the facilities

Cons

The conference centre area isn't necessarily in a good place to see anything else, you might have to travel a bit to see the sites. This was particularly the case in London but isn't too bad in Milan, you are not in a suburb blocked off from civilization and while you're not strictly downtown getting there by train is not a big deal and is only a few stops away.
The choice of reasonably priced options might not be that great, particularly if many people want to stay near the conference centre, check hotels in other areas and if you can find a hotel within a reasonable metro distance don't overpay for a 10 minute saving in the morning, get a better hotel.

Stay downtown:

Pros

Choice of restaurants, shops and things to do when you're not at the conference that are within walking distance
Usually a short walk to the next Metro station, if you have many equal hotels pick the one that is closest to the Metro

Cons

Can be expensive, when you don't have a car it's very nice to be downtown so these hotels tend to be a little on the steep side
Can be noisy, pay attention to what the hotels guests said about noise levels, sometimes hotels face busy streets or are opposite to the police station

Pick your location based on the Metro, stay within 3-6 hops of the conference and 3-6 hops to the city centre.

Pros

Relatively quick transit in the morning, perhaps 5-15 minutes depending on how close you are
Relatively quick transit if you want to go downtown to hit the bars, see the sites or shop.

Cons

Might not be the greatest neighbourhood to be in, read some information about the area and check the hotel reviews to see if it is relatively safe. In Milan the best place for this criteria is around Cadorna station (Parco Sempione) which is a pretty nice neighbourhood.
Possibly expensive, it's always a little more expensive to be well connected

Pick your location based on where you can get the cheaper hotels a bit away

Pros

If you're on a tight budget this might be the only way to persuade your employer to take the plunge or if you're paying the whole cost yourself this might be what you can afford.
You'll probably end up in the suburbs in a more quiet area

Cons

You'll spend more time on public transit than you might necessarily like
Usually not a great range of restaurants or shops in the area which might mean even more transit

Whatever option you pick you can always change your mind next year. Last year (2014) I stayed close to the Milano Centrale station at the Una Hotel Century (see video above). That hotel was part of the official Cisco Hotel list last year and was in the process of renovating. It was quite cheap (partly because it was renovating) at around 120€ a night and was very nice as you can see from the video.
This year I've picked a hotel in Antica Locanda Leonardo that is about 700 meters from the Cadorna station. Cadorna happens to be a 30 minute transit from Malpensa (via Malpensa Express non-stop) and is 4 stops away from the conference centre and 4 stops from Centrale. It is serviced by the red metro line (M1) and the green metro line (M2) and the Hotel is within walking distance to the painting of the last supper.
Whatever you do I recommend you start booking your hotel as early as possible, as you get closer to the conference the prices tend to hike up fast, particularly for the best locations, you can save quite a bit of money by booking early. Even if you are not sure that you'll get to go, you can in most cases book well in advance and not need to pay anything to cancel at a later date.
Plan your sessions
If you're taking tech-seminars (which are on Monday, in the form of 1x8 hours, 2x4 hours or 1x4 hours) you'll need to pick those when you register. To schedule the rest of your time you need to do so when the schedule builder becomes available (usually early November). So what sessions should you take?
Don't be afraid to take a breakout in the same subject area as you picked your technical-seminar, if it makes sense there is nothing wrong with that.
Pick a theme for your breakouts, with a ton of sessions available in many different categories it is fairly smart to pick a theme for your sessions. If more than one person is going, picking a theme for each one will make you able to get a lot of knowledge about a few subjects which in the long run generally tends to work out better than being all over the place. This is one of the reasons why sending more than one person from your company is a good idea.
Take advantage of meet-the-engineer, these are quality people that you won't get many opportunities to meet face-to-face. If you have difficult TAC cases, have implementation questions for a particular platform (or need a how do I do this on this platform) or even if you just want to discuss the idiosyncrasies of a particular platform.
A lot of Cisco people come to Cisco Live! Your Cisco account manager might be able to schedule some meetings for you with some higher ups if you need to discuss a particular case or a large project with someone in the know.
If you need hands on in a particular subject take advantage of all the available labs.
If you are on your path to certification you might want to take advantage of your free certification exam while you are at the conference.
Getting to the conference
Getting to the conference by train is by far the best option you have, unless you are within walking distance.
Subway map with the main players
And here again is the map of the Metro system with all the lines in PDF.
The Metro station serving the conference centre is Amendola which is on the west bound red line (M1) of the Metro. The train that goes there is named after the last stop (as are they all), the last stop being RHO Fiera Milano. Take care that there are two trains westbound on the red line, the other one is marked Bisceglie and does not go to the conference centre since the lines split up after Pagano, one going north west while the other goes south west. Travelling from Cadorna station to Amendola will take roughly 10 minutes.
If you are travelling to the conference centre from the green line (M2) you'll need to take the green line to Cadorna. If you are travelling with the yellow line (M3) you'll need to change trains at Duomo. If you're coming from Centrale you can take both the Green and the Yellow line, I recommend the Green line, it is faster.
You can take a Taxi (at a price, Taxis in Milan tend to be a little on the expensive side) but more comfortable and you're guaranteed a seat. Don't bet on the Taxi being faster though, it has traffic to compete with. If you have your own car you could also drive to MiCo although you should make sure you can park there before doing so as mentioned previously.
Arrival and the first day
Those of you who have signed up for technical seminars should arrive no later than midday Sunday to have time to register before registration closes, if you want an extra day in Milan you can also arrive on Sunday and spend your Monday walking around Milan, otherwise you should arrive no later than midday Monday, again to finish registration before registration closes.
Practice run
It is beneficial to do a trial run of the route (hopefully selected with the dijkstra algorithm) you're going to be travelling to the conference, particularly if you're going to be using the Metro. You can roughly time your trip and figure out which way you have to go into the station to get to the track you want. There are often multiple entrances (and exists), particularly to the larger Metro stations, pick the one that gets you to the right track in the shortest amount of time, this will matter more when there is more traffic in the morning.
If you need to change trains you should also figure out what the best route from your current track to the track you need to go to is. It's also far better to go in the wrong direction on the trial run than it is to do it on your first day.
Early registration and the App
Registration opens on Sunday at 15:00 and is open until 20:00 for those who arrive on Sunday for the main conference or those who have technical seminars on Monday morning. If you arrive at a reasonable hour on Sunday you can use your practice run to go and register, that will save you from having to do so on your first day. Similarly if you arrive on Monday for the Tuesday start, registration is open from 08:00 till 19:00 and it's good to finish up the registration before the first day.
When you register you'll get your computer bag (and whatever goodies are in it) as well as your badge which you're required to wear at all times during the conference, the bag you don't need to bring with you but it's usually a nice bag so you might do it anyway. To register you'll have to log into the registration computer with your ciscolive.com username and password (that you used to register) so you'll need to bring that with you or memorize it.
Register early to avoid the lines
The Cisco Events app is now available from the Play Store and the App store. The app has the full event schedule, all speakers and exhibitors, the venue map and integration with social networking.
Learn your way around
You should also study the floor plan of the conference centre, maps are available here and there is also an iPad app available. Find the room where you first session is and figure out how to get there. You'll have a little more perspective after you at least go there for the registration.
It is remarkably easy to get lost in any conference centre and the MiCo is particularly confusing. Cisco does a decent job of making information signs for you and there are lots of people there to help you, don't be afraid to stop and ask rather than spending 20 minutes aimlessly walking around! It is particularly confusing to get from the North Wing to the South Wing because it isn't always possible to do so within the same floor (might need to go up or down a floor).
Sleep
This might seem like childish advice but you're going to need to sleep while you're there. A full day of technical-seminars or breakouts will make your brain mush by the week-end and you need to sleep to rejuvenate. Go to bed early and get a good nights sleep for the first day as well as all the other days that follow.
Dressing for success
There is not much of a dress code, wear what makes you comfortable. Do remember to wear comfortable shoes, there is quite a bit of walking involved. Some people arrive in one set of shoes and change to flip flops, Birkenstocks or whatnot when they arrive at the conference. Sandals or flip flops while travelling to the conference centre might not be the best idea though, in late January it tends to be both cold and damp in Milan.
The AC at the conference varies, sometimes (particularly during the first day) it can get very warm while they figure out how much of it is needed (or wait for AC units to come in). At other times you're rubbing your hands together for warmth. Don't sit right in front of the AC unit if there is one in the room and it's not a bad idea to bring a sweater that you can take off so you can adjust to the room temps.
First day
If you follow my advice and get registered the day before and do a trial run of your route you'll know pretty well when you should leave for your first day. If your session starts at 9, don't plan on being there at exactly 9, be there no later than 8:40, it will take you time to get to the correct room and you'll need to be there before the session starts to have your badge scanned and get a decent seat. This applies for all the days and all sessions in general, get there in plenty of time.
Lunch
Lunch is served in designated areas for those with a full conference pass. The lunch tends to be OK (certainly better in Milan than it was in London) but you also have the option of going out for Lunch to any of the places nearby. Gogobot has a
list of places nearby
along with reviews.
Rest of the conference
Hopefully you'll have a ton of fun in your tech-seminars, breakouts, labs and whatever else you attend. Here are couple of other things I think you should consider doing:
Go to the opening party at the World of Solutions. The World of Solutions is where Cisco and others show off their products for you. There is food, drink, and products to see and try out. There is quite a bit of pushing to try to sell you something (or scan your badge) but there are plenty of smart products on display, some of which might interest you. The World of Solutions opening party which is at the end of Tuesday is a good time to browse and see what interests you.
Go to the Keynotes, the subjects vary from borderline boring to very interesting but you can't miss it.
If you go to the conference lunch, pick a random table and meet other people. There are great conversations to be had with people of different nationalities that are dealing with the same issues you are.
Go to the Customer appreciation event on Thursday night, meet your peers, sample the food and drink, enjoy the entertainment and even dance. Most of all have fun! Having said that, there is always the dude that doesn't show up for his Friday sessions because he had a little bit too much fun at the party, don't be that guy.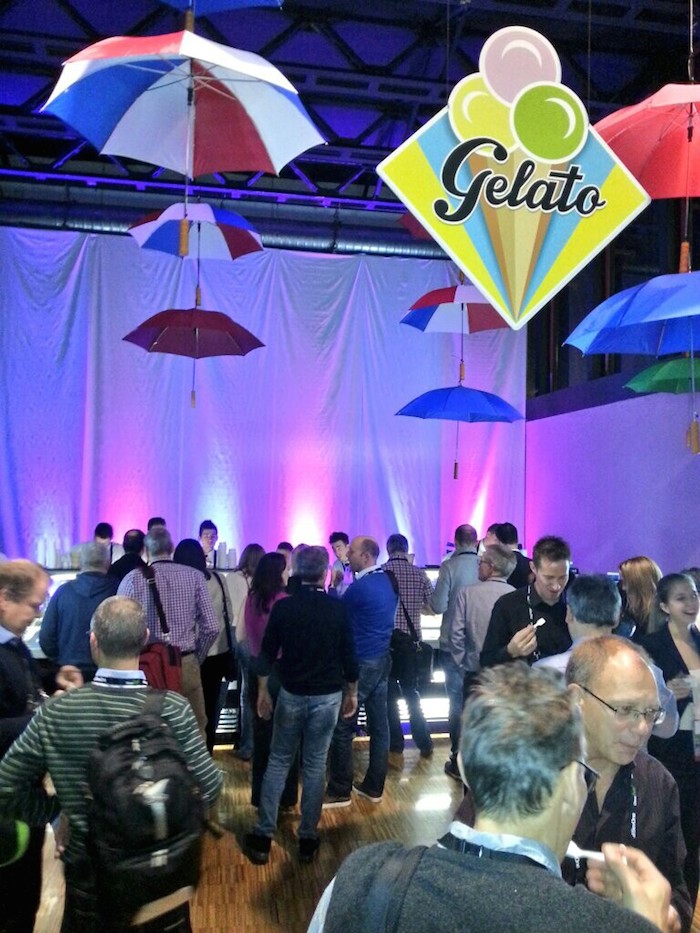 Picture from the Customer Appreciation Event in 2014
Going home
Some people take Friday off and go home on Friday morning, I tend to think that's a bit of a waste because you can squeeze two breakouts on Friday, if you take advantage of that the conference end is at 13:30 on Friday, at which point you'll turn in your badge, grab your lunch bag which Cisco graciously provides you with (sandwich and chips or something to that order) and head back to the Hotel to get your bag which your friendly concierge will store for you while you're at the conference after having checked out Friday morning.
It's reasonable to take a flight back home at around 17:00 if you are leaving by plane, that should give you a little time to get back to the Hotel, grab your bag and get to the airport. You can perhaps get away with leaving a little bit earlier if you are pre-checked in and you know how long it will take you to get to the airport, I don't like to be very stressed so I like to have more time rather than less.
If you're travelling by train the same applies except you don't need to arrive as early, leave some time though so you don't miss your train.
The end
Thank you for taking the time to read this, I hope you enjoyed it and that you learned something and I wish you an excellent time at Cisco Live! Perhaps I'll see you there!
Thanks to the good people at
MaxCDN
and
Bootstrap CDN
I've now changed the style of the site and the blog to something far more modern browser and mobile friendly. It also looks much brighter now and will scale to fit pretty much any screen resolution. Hope you like the new look.
Here is the latest batch of backing tracks I've uploaded to Soundcloud. These three tracks are all Synth/Pop sounding tracks written in a Minor key. They sound pretty good with a medium to high distortion, high volume guitar played over them (or at least they do to me, your opinion and style of course might vary).
The first tune is Ethereal sounding slow track written in C#-minor with a choir, Organ and rain effects along with a beat
| | |
| --- | --- |
| Key: | C#-Minor |
| Tempo: | 90 bpm |
| Time: | Common time |
| Scale: | C#-Minor |
| Arrangement: | 24 bar piece repeated 3 times with the drums coming in for the 2nd and 3rd repeat |
| Chord progression: | C#m, Dmaj7, G#m, E, B, C#m |
The second tune is Rainy jungle sounding track written in D#-minor with a Synth, Marktree, and sound effects along with a beat.
Key:
D#-Minor
Tempo:
120 bpm
Time:
Common time
Scale:
D#-Minor
Arrangement:
Intro: 10 bars, Verse: 28 bars, Chorus: 16 bars, I-V-C-C
Chord progression:
Intro: D#m Verse: G#m, D#m, Fm7b5, D#m, G#m, A#m, D#m
Chorus: B, F#, C#, D#m
The third tune is Spacey sounding track written in F#-minor with a Synth Pad, a Synth Bass and sound effects along with a beat.
| | |
| --- | --- |
| Key: | D#-Minor |
| Tempo: | 120 bpm |
| Time: | Common time |
| Scale: | D#-Minor |
| Arrangement: | 8 bar verse, repeated 6 times with the beat and then various sound effects coming in as the track progresses |
| Chord progression: | F#m, D, F#m, E |
Following up my modal backing tracks here are 3 tracks in the Aeolian (minor) mode.
First in the Aeolian series is a slow paced ballad like tune in the key of B-minor using a Piano, an Upright Bass, some Brass and drums. All the instruments are from IK Multimedia's Sampletank 3 which came out not to long ago, it's pretty cool.
Key:
B-Minor
Tempo:
100 bpm
Time:
Common time
Scale:
B-Minor Scale
Arrangement:
Intro: 8 bars, Verse: 8 bars, Chorus: 8 bars, I-V-C-V-C-V-C-C
Chord progression:
Intro/Verse: Bm, F#m
Chorus: Em6, F#m, Bm, A7
Second in the Aeolian series is a slow paced ballad in the key of A-minor using a Steel-String guitar, Upright Bass and Strings along with drums.
Key:
A-Minor
Tempo:
120 bpm
Time:
Common time
Scale:
A-Minor Scale
Arrangement:
Intro: 4 bars, Verse: 8 bars, Chorus: 8 bars, I-V-C-V-C-V-C-C
Chord progression:
Intro/Verse: Am, Dm, Em7, Am
Chorus: F, Am, Em, Am
Third in the Aeolian series is another slow paced ballad in the key of A-minor using a Grand Piano, Fingerstyle bass and Cinema strings + Aahs along with a easy going beat
| | |
| --- | --- |
| Key: | A-Minor |
| Tempo: | 104 bpm |
| Time: | Common time |
| Scale: | A-Minor Scale |
| Arrangement: | Whole song is one piece with various instruments coming in one by one |
| Chord progression: | C, G/B, B-Dim, Am, F, Dm, G, G/B |
First one in the modal series is a slow-tempo, ballad like piece in C-Major using a steel-string acoustic, a fretless bass and some drums
Key:
C Major
Tempo:
80 bpm
Time:
Common time
Scale:
C-Major
Arrangement:
Verse: 8 bars, Chorus: 4 bars, V-C-V-C-V-C-C
Chord progression:
Verse: C, G, Am, F, C, G
Chorus: F, G, Em7, Am7/E, F, C, G
Second one in the modal series is a up-tempo D-Dorian with a prominent piano and bass along with strings and a fast beat
Key:
D-Dorian (C Major mode 2)
Tempo:
120 bpm
Time:
Common time
Scale:
D-Dorian
Arrangement:
Intro: 4 bars, Verse: 8 bars, Chorus: 8 bars, I-V-C-V-C-V-C-C
Chord progression:
Verse: Dm6, Em, G7, Em
Chorus: Dm6, Fmaj13, G6/9, G7
Third one in the modal series is a mysterious sounding track in E-Locrian using a steel-string and pianos which are offset, a bass, some strings and drums.
Key:
E-Locrian (F Major mode 7)
Tempo:
120 bpm
Time:
Common time
Scale:
E-Locrian
Arrangement:
Verse: 8 bars, Chorus: 8 bars, V-C-V-C-V-C-C
Chord progression:
Verse: Am7/E (Piano), Em (Guitar), Fmaj7
Chorus: Am7, Fmaj7, Am/E, Am
Fourth one in the modal series is a fun up-tempo B-Lydian using a Piano, a upright bass, some strings and drums
Key:
B-Lydian (F# Major mode 4)
Tempo:
120 bpm
Time:
Common time
Scale:
B-Lydian
Arrangement:
Verse: 16 bars, Chorus: 8 bars, V-C-V-C-C
Chord progression:
Verse: B, Db7, F#7, B, Ebm, G#m, F#, F#/C#
Verse-part-II: B, Db7, F#7, B, Ebm, G#m, F#, Db7
Chorus: F#maj7, Db7, B, Ebm, B, F#maj7, B, Db7
Fifth in the modal series is a up-tempo A/E Mixolydian track, using a Piano, Bass, 12 string guitar, and strings along with drums
Key Verse:
A-Mixolydian (D Major mode 5)
Key Chorus:
E-Mixolydian (F Major mode 5)
Tempo:
120 bpm
Time:
Common time
Scale:
A and E-Mixolydian
Arrangement:
Verse: 8 bars, Chorus: 8 bars, V-C-V-C-V-C-C
Chord progression:
Verse: Em7, Amaj7, Bm, D
Chorus: F#m, C#m, Amaj7, D
I've finally signed up for a Soundcloud account. I've been making backing tracks for a while now (using both Cubase LE and Logic Pro X) and my aim is to make these available to the general public. I need to clean them up a little bit before I do that, stay tuned.